Chapter 8: Chemical Equations

I'd like you to read the first two thirds of the chapter.
11th Edition: pages 150-165.
12th Edition: pages 150-164.
The picture shown in the textbook and here is a mixture of aluminum powder and iron (III) oxide powder. Once ignited the aluminum rips the oxygen off of the iron oxide resulting in molten iron, which falls down to the below pot of sand. One time someone used wet sand, which was a mistake because the molten iron turned the water to steam instantly. This sprayed molten iron all over the front two rows of students.
Problem 1 :
11th Edition: Question 11, page 170.
12th Edition: Question 3, page 172.
Balance the following equations: I will give the type of reaction
(a) H2 + O2 --> H2O
Combustion reaction because of oxygen. It also qualifies as a combination or synthesis reaction.
(b) C + Fe2O3 --> Fe + CO
This is a single replacement (displacement) reaction. The carbon atom(s) replaces the iron. This is reaction shows how to turn iron ore into metallic iron.
(c) H2SO4 + NaOH --> H2O + Na2SO4
--> HOH + Na2SO4
This is a double replacement reaction and also called a neutralization reaction. It's a bit hard to see the double-replacement. If water is written as HOH, you can tell that the first H is the one that came from sulfuric acid and replaced the sodium (Na).
(d) Al2(CO3)3 --> Al2O3 + CO2
This is a decomposition reaction. Most carbonates (CO3) will decompose to CO2.
(e) NH4I + Cl2 --> NH4Cl + I2
This is a single replacement reaction. The more reactive chlorine takes iodine's place.

Problem 2 :
11th Edition: Question 17, page 171.
12th Edition: Question 7, page 172.
Balance the following equations: (I will comment on the reaction)
(a) MnO2 + CO --> Mn2O3 + CO2
Carbon monoxide is commonly used to strip off oxygen atoms from metals. This reaction shows the first step. If more CO is present, eventually all oxygen atoms will be grabbed by CO and manganese (Mn) metal will be left. This is how metal ores get converted to metals.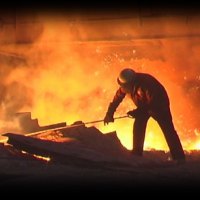 (b) Mg3N2 + H2O --> Mg(OH)2 + NH3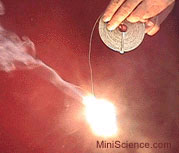 The burning of magnesium metal ribbons in chemistry labs is a common demonstration (2Mg + O2 --> MgO). After burning, they point out the white powder residue, and say that is magnesium oxide (MgO). Because air is mostly nitrogen, there's also some magnesium nitride produced (Mg3N2). If some water is added to the white powder, you will smell ammonia. That can't happen if the powder is only magnesium oxide (MgO). You might stump your lab instructor with that observation.

(c) C3H5(NO3)3 --> CO2+H2O+N2+O2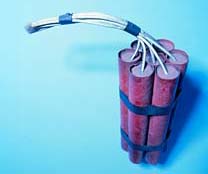 Whenever you see NO3 in a formula, watch out. It's often explosive or at least creates oxygen to make something explosive. Also, whenever a reaction produces a lot of gases like here, then it's usually an explosive. Explosive power comes from a lot of gases being produced in a closed area at a fast rate. The starting material here is nitroglycerin. Interestly, nitroglycerin (diluted) is also used for medical purposes.
Extra Question: Go to this link and report on the medical use of nitroglycerin.
http://en.wikipedia.org/wiki/Nitroglycerin

(d) FeS + O2 --> Fe2O3 + SO2
Hint: When balancing this equation, balance the irons first, then the sulfur. In equations with O2, alway save the O2 for last.

(e) Cu(NO3)2 --> CuO + NO2 + O2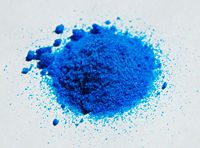 Like mentioned on (c), nitrates are often a source of oxygen and belong to a class of compounds called oxidizers. They are often used in fireworks. Copper compounds are often blue and flames in contact with copper are also blue.

(f) NO2 + H2O --> HNO3 + NO
Your automobile produces nitrogen dioxide because combustion in the cylinders convert some nitrogen in the air to various nitrogen oxides. In contact with water, nitrogen dioxide turns into nitric acid and nitrogen monoxide. Both are unhealthy.

(g) Al + H2SO4 --> Al2(SO4)3 + H2
Many metals are dissolved by sulfuric acid. Acids have an "H+" ion, which is short one electron. Many metals have their outer electrons pulled off by the "H+" ion. When that happens, the metal dissolves. This equation is somewhat simplified because it doesn't show these as ions dissolved in water. Here is the full balanced equation with the ions. You might use it to solve for the above equation:
2Al(s) + 6H+(aq) + 3SO42-(aq) --> 2Al3+(aq) + 3SO42-(aq) + 3H2(g)

(h) HCN + O2 --> N2 + CO2 + H2O
This equation is ironic. HCN is hydrogen cyanide, the poison used in the gas chambers in World War II. If burned, the hydrogen cyanide is made completely harmless.



(i) B5H9 + O2 --> B2O3 + H2O
This is where symbolic equations are very misleading. B5H9 is called pentaborane and is one of the most dangerous compounds around. It's a powerful rocket fuel that the military nicknamed the Green Dragon because of the green flame. Low doses can cause kidney failure and nervous system damage. Exposure to the air can make it explode as well as any hard bumps. Therefore, when balancing this equation, be extra careful not to shake the table.